Lieber Besucher von Google, in diesem Artikel findet ihr alle Lösungen für die Logo Quiz App von Symblcrowd.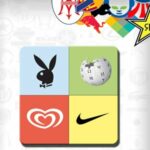 Marken haben Logos und die sieht man täglich tausendfach. Ob das nun gut oder schlecht ist, sei dahingestellt. Nützlich sind die Logos aber, wenn es darum geht, ein Quiz zu entwickeln. Da kann einem ganz schön der Kopf glühen, wenn man auf das ein oder andere Logo nicht kommt. So auch bei dieser App aus der Kategorie "Rate die Marke und ihr Logo". Die Besonderheit dieser App ist, dass es sie für alle drei mobilen Plattformen gibt (Links siehe unten). Entsprechend gibt es bei uns auch die Logo Quiz Lösungen sowohl für Android, iPhone und Windows Phone.
Da dies nicht die einzige Logo Quiz App ist, die sich in den Stores befindet – hierbei handelt es sich um die App von Entwickler Sebastian Willkomm bzw. symblcrowd (Windows und iOS) und Android Crowd (Android).
Fangen wir mit Level 1 von Logo Quiz (Ultimate) an. Hier sind 50 Logos zu erraten. Die App bietet dir jeweils zwei Tipps an zu jedem Logo einzulösen, welche du dir allerdings für schwierige Level aufsparen solltest. Willst du mehr über die Unternehmen hinter den Logos erfahren, tippe auf den Link zu Wikipedia auf der Lösungsseite des Logos.
Lösung bzw. Walkthrough zu Logo Quiz, Level 1:
Puma, Adidas, Pizza Hut, BMW, Pepsi, Shell – na, die kennst du doch. Und ganz wichtig: Apple! 😉
Lösungen Level 2 Logo Quiz App
Im Level 2 haben wir Diesel, BBC, Skype, Allianz usw.
Walkthrough Level 3 Logo Quiz App
Ikea, Picasa, Adobe sind mit von der Partie in Level 3. Android ist auch dabei.

Lösungen Level 4 Logo Quiz App
Walkthrough Level 5 Logo Quiz App

Lösung Level 6 der Logo Quiz App
Walkthrough Level 7 Logo Quiz App
History Channel – Sesame Street – XMPP – Walmart
Heinz – Commodore – Tesco – Frito-Lay
Toys R Us – American Airlines – Omega – Greenpeace
Saab – Nickelodeon – UPS – Amtrak
Logitech – Blizzard – Dunkin´ Donuts – Castrol
MSN – John Deere – Volcom – WhatsApp
Pfizer – Tim Hortons – Aston Martin – Domino´s Pizza
Lay´s – Qantas – Burberry – THQ
In-n-Out Burger – Fujitsu – Bank of America – ATI
Swatch – Krispy Kreme – New Balance – Nintendo
Daewoo – Staples – Banco Bradesco – Hello Kitty
American Express – Taco Bell – UNICEF – Chase
Sprite – NASA
Ihr wollt Level 7 lieber als Video sehen? Dann schaut ihr nach.
Lösungen Level 8 der Logo Quiz App
Walkthrough Level 9 Logo Quiz App
FedEx – Ford – Hasbro – Dreamcast
Monsanto – Delta Air Lines – Rockstar Games – Lockheed Martin
Budget – Grand Theft Auto – Pinnacle – Xbox 360
Dick`s Sporting Goods – Kimberly-Clark – Citrix – Apache Software Foundation
Hawaiian Airlines – Lucasfilm – Q-Dance – BioWare
Marvel Comics – Chrysler – Allstate – CGI
Porsche – Hertz – Dish – Tupperware
Cineplex – HSBC – DC Shoes – DuPont
Kingston Technology – Corsair – Tesla – Royal Caribbean
Lexmark – Avis – Energizer – Papa John`s Pizza
Wizards of the Coast – Cirque du Soleil – Merck – Four Seasons
PowerPoint – LinkeDln – General Motors – Fruit of the Loom
DivX – Goodyear
Ihr wollt Level 9 lieber als Video sehen? Dann schaut ihr nach.
Lösung Level 10 der Logo Quiz App
Walkthrough Level 11 von Logo Quiz
Red Lobster, Coors Brewing Company, Coca-Cola, Zippo
ESPN, InterContinental, Wi-Fi, AMC Airlines
Daytona 500, Sky Team, Alibaba, Jack in the Box
Marc O'Polo, SEGA, Denny's, Lee
Absolut Vodka, Facebook, Samsung Apps, Staybridge Suites
Dragon NaturallySpeaking, Lincoln, Ritter Sport, Fisherman's Friend
Oreo, Cadillac, Durex, Rover
AMC, General Mills, Jim Beam, 3dfx
Nintendo 64, KitKat, Lonsdale, Hooters
Landrover, Tic Tac, De`Longhi, G-Star
Tata, Bacardi, Texaco, HIS Jeans
Post-it, Chili`s, Kool-Aid, Bench., Hankook, Holiday Inn
Ihr wollt Level 11 lieber als Video sehen? Dann klickt hier.
Lösungen Level 12 der Logo Quiz App
Walkthrough Level 13 Logo Quiz App
Longines – Wall E – Harry Potter – Marks & Spencer
Babolat – Louis Vuitton – Skype – Goldman Sachs
WTO – NTT DoCoMo – Oxfam – Bang & Olufsen
Reddit – Royal Canin – Twitter – Harvard University
Chery Automobile – Scania – Ajax – Grolsch
Diners Club – Opel – Cheetos – JVC
Tiffany – EADS – Agfa – CNN
KangaROOS – Beck`s – 7 Up – Herbalife
Air Wick – Alcatel-Lucent – Trend Micro – Bud Light
Simpsons – Adio – Toy Story – Sony Music
Vespa – Geico – Virgin –  Blockbuster
BASF – SCE (sony) – Douglas (Aircraft) – Lenovo – Playmobil – Salomon
Ihr wollt Level 13 lieber als Video sehen? Dann klickt hier.
Lösung Level 14 der Logo Quiz App
Walkthrough Level 15 Logo Quiz App
Saint-Gobain – Milton Bradley – Nesquik – WordPress
Erdinger – Macy`s – Pantene – Rollerblade
Nikon – Brita – Swiss Re – Pan Am
Google TV – Royal Bank of Canada – Nutella – Cessna
ATP – Symantec – Massey Ferguson –  Verbatim
Western Digital – Winston – Reuters – Esprit
Bad Robot – Novotel – Pepe Jeans – South African Airways
Flickr – Amazon – Esso – PETA
Kawasaki – Ellesse – Billboard Hot 100 – Schwarzkopf
Nortel – Johnson & Johnson – Eurocopter – Reader`s Digest
PepsiCo – Calvin Klein – University of Oxford – bing
Kenwood – Swarovski – Ratatouille – Cheerios
Morgan – EA Sports
Ihr wollt Level 15 lieber als Video sehen? Dann klickt hier.
Lösungen Level 16 der Logo Quiz App
Walkthrough Level 17 Logo Quiz App
Champion – Dassault Aviation – Industrial Light & Magic – Tabasco
NTT DoCoMo – Creative – Budweiser – Whataburger
Amarula – Gigabyte – Pokèmon – Thales
Festina – Vivendi – Scotch – Yelp
Berghaus – StumbleUpon – Wilkinson – Campari
Google Nexus – 3M – Zynga – Aeroflot
New York Times – Fox News – Osborne – AsRock
Nescafè Dolce Gusto – Ibis – Mister Wong – Everlast
Flipboard – Ibis – Microsot Office – Alienware
AGV – Microsoft Acces – VLC – Fry`s Electronics
Micro-Star – Otis – ABB Group – Amstel
Siemens – NYSE Euronext – Diadora – Kawasaki – Blu-ray Disc – Travelers
Ihr wollt Level 17 lieber als YouTube-Video sehen? Dann klickt hier.
Lösung Level 18 von Logo Quiz
Walkthrough Level 19 Logo Quiz App
Rio Tinto – bulthaup – Mac OS X – Hulu
BMC – StarOffice – Mylan – IOS
EMI – GIMP – Alcoa – LibreOffice
America West – Inkscape – Expedia – TPG
Corel – FreeBSD – Jack & jones – ZTE
ArenaNet – Microsoft XNA – Wired – Solaris
Altera – SVG – Gearbox Software – NCsoft
Autodesk – Box2D – GNOME – TripAdvisor
Bethesda – Arkane Studios – Xstrata – Sophos
SlySoft – MSN – Research in Motion – Del Monte Foods
id Software – Burger King – UnitedHealth – Microsoft OneNote
PlayStation Vita – Steam – Grohe – Dentsply
Nex Tag – Apache OpenOffice
Ihr wollt Level 19 lieber als YouTube-Video sehen? Dann schaut es euch hier an.
Lösungen Level 20 derLogo Quiz App
Walkthrough Level 21 Logo Quiz App
Zur Lösung für Level 21 braucht ihr u.a. folgende Firmen und Marken: Metro, Outback Steakhouse, LAMY, Belkin, Hubba Bubba, Bounty, Osram und Hapag-Lloyd.
Logo Quiz Lösung Level 22

Level 22 bringt uns Brandt, Daihatsu, Casio, Pall Mall, Nissan, Sarotti. Halt, jetzt müssen wir uns erstmal ein Stück Schokolade holen. Schaut ihr inzwischen das Video!
Logo Quiz App Lösung Level 23
Für das neue Level 23, welches es bisher nur für Android und nicht fürs iPhone etc. gibt, hat uns unser Leser Matthias die Lösung geschickt. Vielen Dank hierfür! Damit sind wir die einzigen, die bis jetzt die Lösung im Netz anbieten. Bei Windows Phone geht es auch nach dem Update vom 10.01.2013 immer noch nur bis Level 20.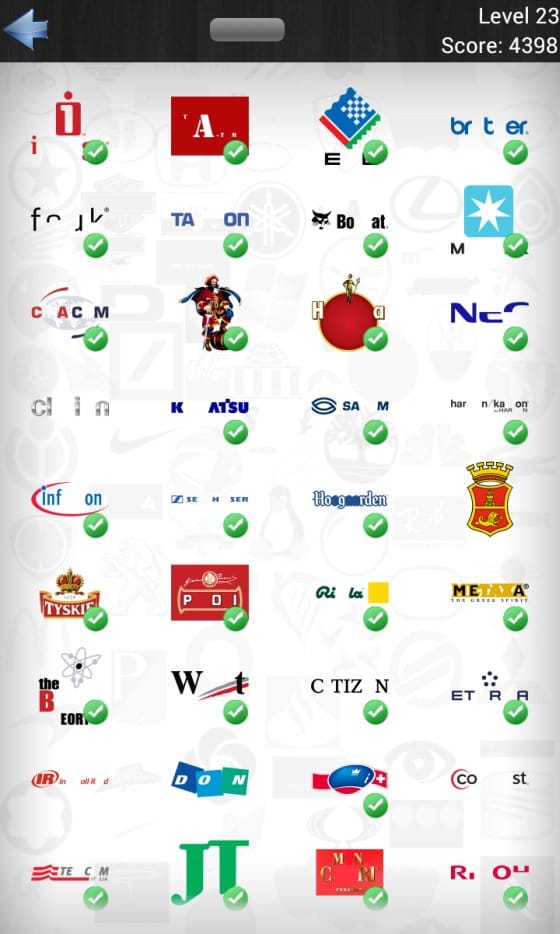 Die Logos für Level 23 sind ausgeschrieben wie folgt:
iomega, a-team, eizo, brother
french connection, tamron, bobcat, maersk
cma cgm, captain morgan, havana club, nec
clarion, komatsu, sagem, harman/kardon
infineon, sennheiser, hoegaarden, san miguel
tyskie, peroni, ricola, metaxa
the big bang theory, west, citizen watch, eterna
ingersoll rand, doosan, emmi, comcast
telecom italia, japan tobacco, mon cheri, ricoh
glaxosmithkline, -, two and a half men, garageband
magna, roche, oerlikon, house
time warner, lehman brothers, kaba, daim
rocher, morgan stanley
Logo Quiz Lösung Level 24
Logo Quiz Lösung Level 25
In Level 25 haben sich folgende Marken versteckt:
Logo Quiz Lösung Level 26
In Level 26 findet ihr dies:
Logo Quiz Lösung Level 27
Level 27 u.a. mit DC Comics, The Ritz-Carlton, Disney Channel, Bank of New Zealand, Merrill Lynch und JanSport.
Logo Quiz Lösung Level 28
Update vom Juni 2013
Level 28 bringt uns z.B. Bluna, Paninin, Katjes, O'Reilly, TYPO3, Hornbach, Orion, Ed Hardy, Vapiano, Migros, McFit, Vattenfall, Hermes, Random House, Trolli, Barnes & Noble und sehr, sehr viele unbekannte, die man wirklich nur mit dieser Lösung hier lösen kann.
Logo Quiz Lösung Level 29
Update vom Juli 2013
In Level 29 erwarten euch u.a. die Marken von Raffaello, Tassimo, Tui, Zalando, Star Wars, Indiana Jones, Commerzbank, RTL Group, L'Oréal, ThinkPad, der Suchmaschine DuckDuckGo, Thomas Cook, Lekkerland, HeidelbergCement, Fresenius und Intersnack. Es sind aber leider auch wieder sehr viele internationale Brands dabei, die man in Deutschland überhaupt nicht kennt.
Logo Quiz Lösung Level 30
Update Ende Juli 2013, Level 30 ist da!
EMule – Walgreens – Steinway & Sons – Koch Industries – Play-Doh
Filofax – Eaton – Zalman – Maestro Card – Campina
Bubba Gump – Williams Companies – PCI Express – Williams F1 – CVS Caremark
BYD – Bellagio – Zune – Kinder – Escada
Shazam – GoPro – OCZ Technology – Yin & Yang
Occidental Petroleum – Abit – Saturn – J.C. Penney
Phillips 66 – Marrusia Motors – Amazon Kindle – Wolfson
Nintendo DS – Lite-On – Victoria´s Secret – Telmex
London Stock Exchange – Fruitopia – Honeywell – PNY
Sunoco – Proton – Corny – Cadence Design Systems
Sauber Motorsport – Wimbledon – Micron Technology – SoundCloud – Miramax – Palm
Logo Quiz Lösung Level 31
Doritos – Medion – Kingfisher – AC/DC- Gerolsteiner
Bifi – Hampoo – The White House – Jabra – Major League Baseball
Bundesliga – Gartner – Penaten – Cinzano – RAIJINTEK – Thermalright
FrieslandCampina – Open Source – Zapf – Rip Curl – Tonka
Python – United Breweries – Roewe – Cornetto – Pfanni
Ravensburger – Eurovision Song Contest – Philadelphia – Subway – Tostitos
Bertolli – Red Hot Chilli Peppers – Kettler – Edeka – ültje
Heraeus – Grimme Preis – Endomondo – Axe – Playstation 4
Nokia Lumia – SCA – Pirate Party – Pokerstars – Teenage Mutant Ninja Turtles
Viewsonic – Camp David – Intersnack
Logo Quiz Lösung Level 32
Marico
Cartier
Air India
Surface
Micron
Meters/Bonwe
GitHub
Au
Bing
Parachute
Haldiram´s
Xeon
Gucci
Home Center Sodimac
Humble Bundle
Lian LI
Estée Lauder
Grand Theft Auto V
Falabella
App Store
VMware
China Mobile
Softbank
CyanogenMod
Zotac
Scotiabank
InMobi
ASDA
Samsung
Kohl´s
Chaos Computer Club
Natura
The Daily Telegraph
Xiaomi
MySQL
Shan Food
Uniqlo
Rubicon
Prada
Infosys
Kickstarter
AEG
Marks & Spencer
Qt
Cadbury
Millward Brown
Adidas
Tor
Hyundai
Kweichow Moutai
Nun heißt es schon wieder auf Level 33 warten. 😉
Fazit zu Logo Quiz
Eine App für viele Stunden Beschäftigung, da es unzählige Levels gibt. Ob das Spiel unbedingt Sinn macht, da darf man seine Zweifel haben. Pädagogisch wertvoll? Nein, bestimmt nicht. Außer man heißt Ariel Snickers und ist von Beruf Markenfetischist bei MTV. Das dürften nur wenige Spieler sein. Deshalb wird es gerade in den höheren Levels fast unmöglich die Logos zu kennen. Da sind schon abstruse Logos dabei, die man nur dann sieht, wenn man als Werber seine Profession gefunden hat. Deshalb findet ihr auch oben die Hilfe für die App. Dies sind alle Lösungen für Logo Quiz Ultimate von AndroidCrowd bzw. Sebastian Willkomm (symblCrowd). Bisher sind 32 Levels erschienen, stay tuned for more.
App-Check von Logo Quiz
getestete Version
1.2 vom 12.11.2012
Positiv + jeweils zwei Hinweise pro Level + Links zu weiterführenden Informationen bei Wikipedia
Negativ - wieder eine von etlichen Logo Quiz Apps - sehr viele in Deutschland unbekannte Logos dabei