Kontakt
(for English version see below)
Hallo,
willkommen bei Check-App! Wir haben hier seit 2011 bereits mehr als 3000 Reviews zu Apps und Gadgets verfasst.
Wenn Sie Entwickler oder Herausgeber einer Windows Phone, Android oder iOS-App sind, können Sie uns gern bezüglich eines Reviews kontaktieren. Wir freuen uns natürlich über Promocodes für uns und unsere Leser. Wir testen auch gern Zubehör und andere Waren rund um Apps und Technik und veröffentlichen die entsprechenden "Checks". Diese Adresse kann als Zustelladresse für Testmuster und Warensendungen benutzt werden: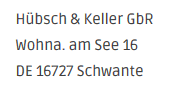 Falls Sie eine Anfrage haben, kontaktieren Sie uns unter: info[at]check-app[punkt]de oder benutzen Sie untenstehendes Kontaktformular.

Gern können Sie uns auch jederzeit zu Veranstaltungen, insbesondere in und um Berlin, einladen.
Das Team vom Appblog "Check-App".
—
Hi and welcome to Check-App – the blog for Android, iOS and Windows Phone app reviews and gadgets. We bring you our honest opinion about apps and tech stuff. You can always reach us via mail info[at]check-app[dot]de or twitter. Please fill in the form below to contact us. If you're an app developer, we appreciate promo codes for us and our readers. Thanks.
Here you can submit your app / hardware for review: